This year even smugger than ever!!
Well! What a year it's been, eh! Alice? (Don't we always start the letter like that?)
We'd wondered whether to revive a previous Watson-Laird Gazette, a repeat of a previous year when things were better, when England beat Germany at football, when there was a royal wedding that lasted, a new royal child, a hot summer, when we won the Eurovision Song Contest, the mortgage rate was higher(!), and the car started first time. But we'll be brave and tell it like it was in 2008.
Editorial
Should we start with how we had breakfast, lunch and dinner in each of three different European capitals on the same day? That was a good high point! Or we could start with a low point such as when we both fell asleep on a bitterly cold January morning in the tropical house at a bird sanctuary! Our correspondent JD of Devon said last year that he wants the letter to be funnier this year, so that would be a good start for him. Forget to put a stamp on his card Alice!
We could always start with the story of your old university friend Chino from Japan who finally married her Scottish headmaster boyfriend, before running away together to run a school in Lima, Peru
I suppose at this time of year after a very cold few weeks we should start with memories of holidays, usually a lot hotter than it is now. At Easter we stayed in the Dorset country town of Wareham, in a quaint bed-and-breakfast in the heart of the town, which is still surrounded by medieval earth works. We spent a wonderful week exploring the beautiful Dorset countryside.
No, the following picture is not a preview of the Page Three Bird. It's a statue in the grounds of a stately mansion during one of our vists in Vienna. You didn't see skies like that in England.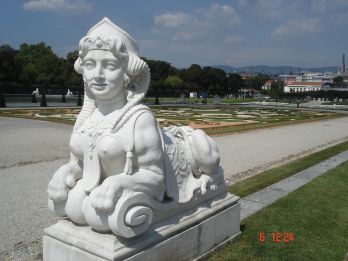 In the summer we returned to Prague, for this year's international puzzle party, trying hard to forget Martin's bout of Novavirus during our brief Christmas visit two years ago. One of Martin's puzzle designs was presented to about 100 other puzzle collectors. We had a wonderful time exploring more of this wonderful European medieval city for a week, before meeting up with old friends from around the world, many of whom we hadn't seen for two years.
After the puzzle party there was an additional trip by coach for seven days, visiting Bratislava, the capital of Slovakia, Vienna, the capital of Austria, and Budapest, the Hungarian capital. As mentioned earlier there was one day when we had breakfast in Vienna, lunch in Bratislava and dinner in Budapest. I bet none of you lot have done that!
Above, Martin tries a self-portrait in a mirror maze. He would!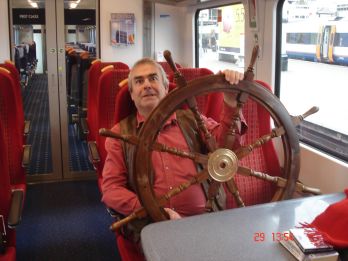 Or I could tell the story of the ship's wheel that I bought in Wareham. I told the man on a market stall that I liked it but that my girlfriend didn't. He said surely that's a good reason for getting it, so I did! The photograph won £25 in the South West Trains photography competition.
Our final holiday, (we're not getting too pretentious again are we, Al?) was in Barcelona (in Spain, for those of you that are duff at geography), where we stayed as personal guests of King Juan Carlos. (Martin, you are getting pretentious and you are telling lies!) OK, we stayed in an apartment in the heart of the medieval city. (Martin, stop saying medieval in every paragraph.)
Culture
What have we done for culture this year Alice? Oh yes, for gardening culture, pun obviously intended, we visited the historic Chelsea Physic Garden, a 'Secret Garden' that is a centre of education, beauty and relaxation. Founded in 1673 by the Worshipful Society of Apothecaries, it continues to research the properties, origins and conservation of over 5000 species.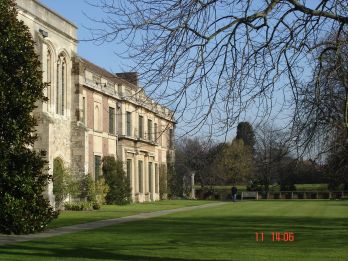 Alice chose a visit to Eltham Palace in SE London as her birthday activity. Combining Art Deco and ocean liner style, it's a stunning masterpiece of twentieth-century design. Textile magnates Stephen and Virginia Courtauld built their glamorous London showpiece in 1936, next to the remains of a medieval royal palace which was originally Henry VIII's boyhood home.
For historic culture we visited the Cabinet War Rooms and Churchill Museum under Whitehall in central London. Churchill liked the place so much that he said 'This is the room from which I will direct the war'.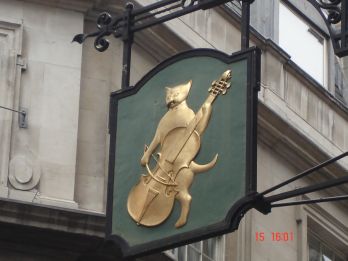 In a forlorn attempt to rediscover our childhood we went on a guided walk around the City of London, discovering the origins of children's nursery rhymes. Here's the cow doing something with the moon…
Another interesting place we visited was William Morris's house in Bexley, south-east London, which gave us an insight into the Architecture and Design skills of Mr Morris.
Among many other interesting days out were:
A visit to Cambridge.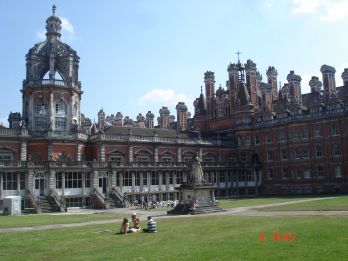 A tour of Royal Holloway College, (below) in Egham, just outside SW London, built between 1881 and 1883 by Thomas Holloway. He was a self-made multi-millionaire whose fortune had been made in medicinal patents. Built as a college for women, it is now part of the University of London.
A guided walk on the other side of the Thames from Teddington around Ham Lands, an attractive area of scrub and grassland beside the River Thames, well known for its remarkably diverse plant life.
A visit to Gunnersbury House, the seat of the Princess Amelia, daughter of George II in Gunnersbury Park, West London.
One sunny Saturday afternoon in the autumn we explored the pretentiously-named Rotherhithe Peninsula, the area to the south of the River Thames opposite Canary Wharf.
We spent a wonderful evening reliving what little we can remember of the 60s to the sounds of The Zombies and The Yardbirds.
Travel News
We'd never been on a coach holiday before, possibly dreading the other passengers, but as we knew most of them from previous puzzle parties it was just like one long party with wonderful scenery and interesting places at which to stop. One of the highlights was a boat trip through underground caves, on an electric boat which was silent, floating through the most wonderful grottoes, caverns and mysterious underwater lagoons.
As we drove around central Europe, it seemed that everywhere we looked we'd see sunflower fields on one side, and corn on the cob fields to the other, with a castle on a mountain in the distance. And at any point when the excitement seemed to be dropping, there was always the prospect of a heated row between our coach guide and a local tour rep! We could write pages and pages about seven of the most memorable days of our lives, and in fact Martin has to, as he has agreed to document our adventures for the puzzle party records.
This year's gorgeous Page 3 Bird is...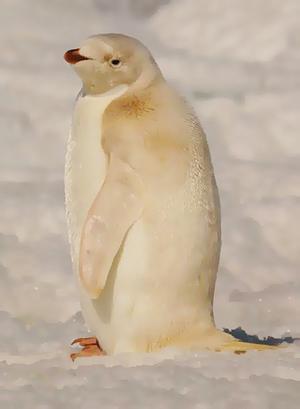 Lucy, the leucistic penguin. (Look it up…)
Employment News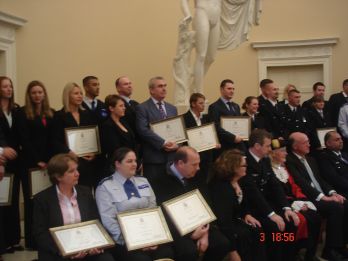 Early in the year Martin received a phone call inviting him to attend a special commendation hosted by the Borough Commander of the Metropolitan Police in Hounslow. At this glitzy event he received a certificate in recognition for CCTV work that he did last year which helped an investigation team capture a serial rapist. Held in nearby Syon House, a local stately home, we brushed shoulders with several police officers who had also received awards for performance above and beyond the call of duty.
Hates in Xmas Letters
After compiling all seven votes that we received from you last year, we can now present the top 10 list of things that people hate reading about in Christmas letters!
Death of pets

Child musical achievements

Tacky formatting, crass clipart and excessive use of features from obsolete versions of WP software

Exotic holidays

Medical conditions

Obscure relatives

Bizarre talents of offspring

Offspring with bizarre names

Excessive use of !!!!!!

Out of focus photos

Decorating

Smugness

Page Three Birds
DVD to come…
So we've decided not to mention our pet stunt badger, the one with the GCSEs, Grade One Piano, MBE, impetigo, and three second cousins all called Francis who all went to Gstaad for surfing last year.
Happy Easter from Martin & Alice
Read The Watson-Laird Gazette on the Interweb Net Thingy.
http://www.martinhwatson.co.uk/xmas_2008.html
Money-back guarantee! If you are not entirely satisfied with your copy of the Watson-Laird Gazette 2008 return it to us for a full refund of the cover price.
Alice recruits in Barcelona for an incomplete Nativity scene. Merry Christmas to you all!!!!!!!