28th July 2007 - An excellent 5-hour walk around Kew Gardens, including meeting this little fellow. Too Kew-t!!
17th June, 2007 - This morning we spent a wonderful two hours being guided around the Barnes Wetland Centre by Neil, who led a wildflower walk.
My highlight was meeting this little fellow, who was happy to pose for me, although I did have to get down on hands and knees!
On a beautiful Sunday morning we saw all of the following flowers, and many more, a real test for the voice recognition software!
Yellow water-lily, mare's tail, bird's foot trefoil, rib wort plantain, St John's wort, water mint, cut-leaved crane's bill, black medick, thorn apple, teasel, common ragwort, common cats ear, hoary mustard, crucifer, traveller's joy, old man's beard, red clover, meadow vetchling, smooth Hawkshead, bog bean, greater bird foot trefoil, corn cockle, ox-eye daisy, field bindweed, mallow, bristly ox tongue, common knapweed, meadow brown butterfly, evening primrose, bee orchid, prickly lettuce, horse tail, hop trefoil, thick thighed flower beetle, sweet rocket, dames violet, lady's mantle, burdock, catmint, meadowsweet, southern marsh orchid, water figwort, rosebay willow herb, messages for the fairies, common mallow, box, greater plantain, Deptford pink, nipple wort, biting stone Cup, Dove's foot crane Bill, hop hornbeam, juniper, lawn daisies, gypsy wort, Sweet Briar Rose, gelder Rose, elder tree, good for finches, Marsh wound wort, branched burr weeds, fleabane, monkey flower, common meadow rue, hoary willowherb, hemlock water drop wort, yellow loose strife, common spotted orchid, purple loose strife, hedge bindweed, woody nightshade, flowering rush, goat's beard, pyramidal orchid, as deciphered from Alice's notes!
16th June, 2007 - Alice spent the day at Haslemere, while I travelled to deepest Devon, for a wonderful garden party and puzzle party. Puzzles, Toys, Gizmos, Flying things, Scientific wonders, Exploding things to show to, swap with, or sell to everyone.
15th June, 2007 - I've just finished my first week in my new position, as an evidence gatherer. It's fascinating and rewarding work but starting a new job requires a lot of concentration, and I am totally shattered.
8th June, 2007 - For the last year I have been listening to the afternoon drive-time show on BBC Radio London. Recently Eddie, one of the regular presenters has been absent. I was very sad to discover, today, that his absence is due to a cancer-related illness, the full story and many comments (including mine below) can be read on the BBC website, here.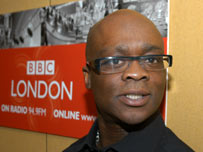 "Eddie, despite your absence in the last few weeks, it is only today that I discovered that you are ill. I've been listening to Radio London for about a year now, early in the morning, mid-afternoon as I am not in full employment, and the drive-time show. I've sent to you and Kath many e-mails, most of which you have read out. You've disagreed with my view in most of them, but needless to say Kath usually agrees with me. The last one I can remember being read out when you were on the programme, was my suggestion that you wouldn't have got your presenter of the year award without my contributions! I just wanted to let you know many people are thinking of you and wishing you well."
7th June, 2007 - I got a wonderful surprise last Friday! My boss's boss's boss walked into my office and said he'd like to have a word with me. He shut the door and warned me that what he was about to tell me might come as a bit of a surprise.
For a lot of the last two years I have only been working part-time, and I have often expressed that I would like to become full-time. To cut a long story short I will shortly be beginning a 10 month full-time secondment as a forensic evidence gatherer at the South West Trains control centre in Wimbledon. The job will be in two parts, partly collating records of anti-social behaviour, and partly collecting CCTV evidence from trains, and ensuring continuity of custody of evidence, before examining the evidence for possible use in a court of law.
The boss wasn't actually aware that I had previously expressed an interest in such a position. Hopefully if all goes well the secondment will be made full-time and permanent next year. I am due to start on Monday.
By coincidence, I had an assessment yesterday at SWT in Basingstoke for a role as Revenue Protection Analyst at the head office near Waterloo. It all went well despite falling full length in the gutter outside the station yesterday morning. I didn't even damage my suit. I feel more shaken now than I did then.
3rd June, 2007 - Walking at Shepperton, we saw a modern version of a Chinese Water Clock.
2nd June, 2007 - It had been quite a while since we last went to Kempton nature reserve so we spent the afternoon there today. We saw 10 or 12 herons, nearly as many as we saw on our first visit last year. I also spent 20 minutes observing the dipping pond near the South Hide, watching baby frogs! Very relaxing.
30th May, 2007 - The thoroughly dreary May which followed a most excellent April petered out in suitably wet style! A thoroughly wet May Bank Holiday lasted even longer for Alice and I as we both took an extra day's holiday. In the morning the rain held off just long enough for Twickenham Green Fair to be a reasonable success.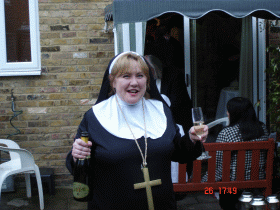 On Saturday afternoon we went to a black-and-white themed party at our friend Hillary's, and spent most of the afternoon sitting under an open-sided tent in the garden. However the excellent company and the entertaining costumes made it a wonderful afternoon. Alice wore a badger mask, while I wore a pair of jeans with one black leg and one white leg. Hilary, as Mother Superior, clearly broke some of her vows!!
On Sunday we went to Hounslow Heath, a local nature reserve which we had not previously visited. Although it rained most of the afternoon we really enjoyed the Heath and although we didn't see many birds, we heard many singing in the damp undergrowth! In evening we met Alice's friends at the excellent gift 0 restaurant in Southall.
Monday wasn't quite as wet, and we walked on a circuitous route across Richmond Park, from Kingston Gate in South right up to the very north of the park, and then down through East Sheen Common, where we found two trees had blown down the previous day in the wind.
On Tuesday we got the bus to Brentford, and walked along the Grand Union Canal to the Fox pub at Hanwell where we had an excellent lunch.
14th May, 2007 - On Saturday we had an excellent morning at Richmond May Fair, just managing to avoid the rain that spoilt the afternoon. I was surprised to be able to buy some very fine books from outside Richmond Public Library, at 10p each, some of which appeared to be brand new. It always amazes me when public libraries sell-off books. They had hundreds of books, surely they should be given to school libraries, rather than almost given away like this?
I was very impressed with Orleans Park School's Soul Band, who performed live at the fair, playing 1960s soul classics. They had an excellent brass section consisting of seven or eight saxophones and trombones, plus two lead singers. They would look excellent if they were all wearing matching blazers, possibly a great opportunity for a local business to sponsor them? The girl lead singer was very much the better of the two.
Yesterday we had intended going to the Annual Chestnut Sunday parade through Bushy Park, but the rain was so bad we had to miss it this year, if it actually took place.
8th May, 2007 - This month's visit to Surbiton bird-watching club taught us a lot about beaks legs and feathers. It was an evening explaining tours how we should identify one bird from the next.
28th April, 2007 - While on the bird spotting trip last week, I overheard somebody on the coach talking about Molesey Heath, which is only about three miles from Teddington, and apparently a very good bird spotting place. We got the bus to Hampton Court and then walked along the River Mole and the River Ember to the Heath where we spent an excellent afternoon, walking seven miles in all, before walking back to the river and getting a ferry across the Thames as part of our journey home.
22nd April, 2007 - We spent an excellent day out with Surbiton and District bird-watching club, at Rye harbour in Sussex. The group as a whole spotted 90 different birds although Alice and I managed about eight or ten. Probably our high point of the day was when we stopped outside a little cottage about a mile in from the sea, to admire some very fancy chickens. The owner came over and talked to us about the chickens, and introduced us to them. Just as we are about to depart he reached into his coup, and took out a very large Aylesbury duck egg and an Indian runner duck and gave them to us. Alice finished the day very carefully carrying two raw eggs around with her!
19th April, 2007 We are just back from a wonderful ten-day break in Dorset, the same area which we visited last autumn.
As we intended travelling around on South West Trains, we decided that the bed and breakfast where we stayed last year was a little bit too far from the station, so we stayed at the Frampton Arms, awonderful pub just across the road from Moreton station. We could almost stay in our room until we heard the level-crossing bells then run down to catch the train! Hello from Alice and I to John and Janette, all the staff, and all our friends in the little bar. You made our holiday extra memorable!
We visited the local towns of Wool, Wareham, Poole, Upwey, Dorchester and Weymouth, as well as a return to Alice's much-loved Brownsea Island, situated in the middle of Poole Harbour, the second largest natural harbour in the world.
Amazingly for Easter in England, we had 10 consecutive days of great weather! We walked between five and 13 miles almost every day, saw some amazing spring countryside, and many different kinds of wildlife.
18th March, 2007
We went to the old Metropolitan Water Board building (below) on the A316 near Sunbury to see the world's largest fully operational Triple Expansion Steam Engine - "The Sir William Prescott". The engines that we saw were the heart of the water treatment works at Kempton Park in Middlesex, supplying North London with drinking water, taken from the Thames.
10th March, 2007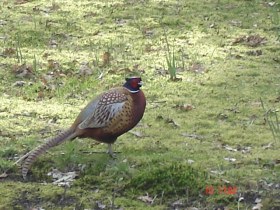 We had our first walk in Bushy Park for many weeks today. Spring definitely seems to have arrived!
The park staff have certainly done a lot of work in the woodland garden as you can see from the picture here and also here.
Our visit was particularly memorable for the sighting of a pheasant. I have been visiting Bushy Park for over 20 years and have never seen one, although I have often heard the distinctive shriek of one somewhere in the woodland garden.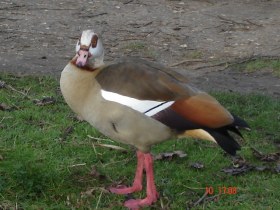 As one area is called The Pheasantry, this is hardly surprising, but it was wonderful to finally catch sight of one. This fellow was also seen, giving a hard time to the local mallards.
9th March, 2007
I spend a lot of time burrowing about in the BBC website. It's excellent for news of course, but it has so much more, if you can find it - I don't like the A-Z index interface to who knows what! Lately I have spent too much time at On This Day, a look at this day in history. Read about my birthday in years gone by. Try theYears and Themes tabs.
As a very late birthday present, Alice received a set of four Fred Astaire and Ginger Rogers DVDs. We were amused to see the warning on them, "Contains mild sexual innuendo and very mild violence". Political correctness gone mad yet again.
5th March, 2007
I clearly remember that day 20 years ago this week when I went to Calais for the day with friends. That evening as we drove back up the M2 towards London we heard about a ferry accident at Zeebrugge, in which some people were feared drowned, and the number steadily rose as we got back towards London. Even into the following days the death toll rose, and I found the news reports very troubling, thinking back about how we had been on a ferry at the same time. I even remember getting into work on the following Monday, and people were relieved to see me (for once!) as they had not known on which ferry I would be travelling.
On a happier note, I saw the first wasp of summer today, just a week after the first flip-flop sandal!
20th February, 2007
Alice and I attended an excellent lecture at Surbiton Bird-Watching Club, the subject being owls.
17th February, 2007
I've added some reasons for the decline in UK society.
14th February, 2007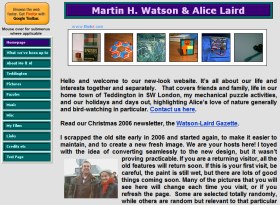 We are the featured Readers' Website in Web User magazine (circulation 32,000) this fortnight!! As well as a picture of the home page, showing Alice and I, the article says,
"Untangle the intriguing world of puzzles, Teddington and more at Martin Watson's website."
"Martin Watson's website includes much of what you might expect from a personal website - family photos, lists of interests, Christmas news letters and a journal - but there's also a raft of information the like of which cannot be found elsewhere. In addition to modern and historical information about Martin's home town of Teddington, a large portion of the site is dedicated to his interest in puzzles. Martin has been designing puzzles for years, and some of them are available for free so you can build and solve them yourself. A well-thought-out layout and Flickr integration, coupled with unique and interesting content, make this a simply delightful website which we strongly recommend you take a look at." (C) 2007 Web User
(Also, read here about my previous accolade for this site!)
11th February, 2007
Alice finally hit 40, so I took her out of the country! We went to Brussels.
2nd February, 2007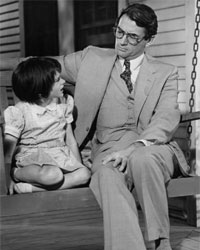 Last night we (that's not us on the left!) had a wonderful evening of bigotry and prejudice, when we went see "To Kill A Mockingbird" at the Theatre in Wimbledon. We both love the book and the film, and we were both very impressed with how grown-up actors managed to play the parts of the two children, Scout and Jem, from the book.
If you haven't ever seen the film then you can watch it online, totally free, no registration, if you have broadband, here, in 7 20-minute sections. Harper Lee's book is wasted on reluctant teenagers doing set books for exams.
[Later note: Following a BBC Radio London debate on whether teenagers are too young to understand race issues, I sent the following to the station, "Most of the audience were teenage schoolkids, obviously doing it as a set book. They all had a wonderful time, and I think they all understood the message."]
1st February, 2007. (Red letter day!)
We are delighted to hear that Celine, wife of Alice's brother James, gave birth today, (just ahead of Groundhog Day!) to their second child, a boy, Stanley, weighing in at a cot-wrecking 11lbs 7oz! They already have a daughter, Esther, 4.
Stanley shares his birthday with Don Everly of the Everly Brothers, Terry Jones of Monty Python fame, StanleyMatthews, the first British soccer player to be knighted, and actor Clark Gable.
January 22nd, 2007
Yesterday we visited the Wildfowl & Wetlands Trust, at Welney before moving on to another area of the Ouse Washes. This was all Alice's idea! Earlier in the week we had attended our first meeting ofSurbiton and District Bird Watching Society. We saw a very entertaining and educational presentation on Mediterranean birds, and I drew the Chairman's winning ticket in the raffle! The society arranged the coach trip to East Anglia, and we were made to feel very welcome by many of the members. The water levels at Welney were so high that much of the area was closed due to flooding but we still had a wonderful day, and my great, lasting memory will be seeing a flock of hundreds and hundreds of swans, a sight which I have never seen before. Click on a picture above or below to see more.
January 10th, 2007
Happy New Year to all our readers. I've belatedly added an account of our December 2006 visit to Prague here.
January 14th, 2007
Our first long walk of the year was from Norbiton station, into and across Richmond Park, a failed attempt to find ageocache, then back along the River Thames, six miles in all. The Royal Star & Garter Home, below, looked incredible, reflecting the sunset.