Our 2011 Christmas letter is here. Our 2012 adventures start here.
December 16th, 2011 - I'm still recovering from my foot operation last month.
November 4th 2011 - My foot operation. (Warning, some gory images...)
October 22-28th Wiltshire, near Fovant for a week.
28th Wiltshire Villages Walk.
27th Wingreen.
26th Shaftesbury.
25th Stourhead.
24th Dinton & Langford Lakes. We got unbelievably close to a kingfisher, watching it flaunt itself on a branch right outside the hide.
23rd Fovant Military Badges walk. .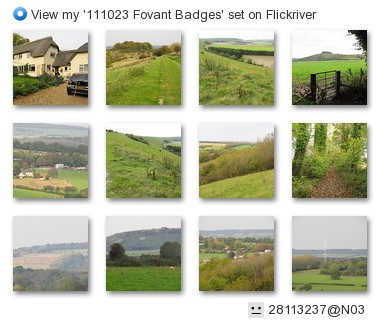 September 25th 2011 - A visit with Surbiton & District Bird Watchers to Arme peninsular, west of Poole Harbour.
September 17th 2011 - London Open House day, The Custom House, then the Roman ruins under the old Billingsgate fish market, then the head office of the National Association of Flower Arranging Sociteies (really) then the Mansion House.
September 3rd, 2011 - Kempton Park Nature Reserve where we saw masses of dragonflies.
August 2011 - Alice phoned me at work, and greeted me with the terrifying words, "I've been the victim of a massive bank fraud." To cut short a very long story, which dragged on through six weeks in the autumn, as far as we can tell somebody had got hold of enough of Alice's bank details to be able to contact the bank informing them of a change of address. Money was transferred from an account for which Alice doesn't even have a bank card and then large amounts were made to various people.
All the bank can tell us is that it wasn't related to internet banking, and, reading between the lines it seems a bank employee didn't thoroughly check the signature on a letter they were sent. We were asked about compensation, and worked out a reasonable rate for the 10 to 15 hours which a distraught Alice spent visiting banks and phoning the Fraud Department. (it was so frustrating that bank security meant that we couldn't both get involved.) Ultimately, the bank gave us three times our very optimistic request for compensation. The police now tell us that we weren't the victim, it was the bank. We are so careful with bank details, shredding everything, and it is nice to know that our sensible and cautious behaviour kept us secure.
August 27th 2011 - 1970s fun with our friend Hilary.
July 30th - August 12th 2011 - Germany
July 26th, 2011 - My birthday, a visit to Kew Gardens.
July 9th 2011 - A bit more London Loop walk, near Enfield Lock.
June, 25th, 2011 - Another bit of the London Loop walk, from Barnet.
June 5th, 2011 -A visit with Surbiton & District Bird Watchers to Paxton Pits in Huntingdonshire.
May 31st 2011 - Along with several of my BTP work colleagues we visited the Tower of London for the Ceremony of the Keys.
May 29th, 2011 - A visit to Kew Steam Museum.
May 8th 2011 - Our annual local event, Chestnut Sunday in Bushy Park.
April 2011 - We had a week away in the village of Coton-in-the-Elms in the National Forest.
23rd - Villages of South Derbyshire walk.
February 11th, 2011 Alice's Birthday, we had a guided tour of the Royal Albert Hall, then a visit around the base of the Albert Memorial before walking across Hyde Park, where we discovered a temporary exhibition of mirror sculptures. We then went on to visit the Wallace Collection, where we had luxury tea.
February 7th 2011 - Bushy Park.
January 30th 2011 - Wimbledon Common.
January 23rd 2011 - Bushy Park.
January 9th, 2011 - It's been a while since I last wrote here. Mainly it's because I have a very bad strain in my right elbow and forearm from too much mouse activity a few months ago. It's unbelievably painful and debilitating, but is responding well to treatment. Using my left hand for mousing takes the strain away, but I have to be careful about causing a problem in the left arm.
Happy New Year to all our friends and family around the world, and in case you missed it, our Xmas 2010 newsletter is here.
January 8th, 2011 - A walk in Richmond Park.