November 2009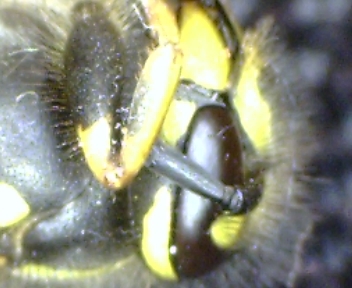 I recently bought a Veho 400 USB microscope. Iā€™ve read varying reviews of them. Iā€™m really impressed with mine. The picture here is of the head of a wasp which had been slowly dying over the last few days.

I think anyone who isnā€™t impressed with a picture like this from a 40 pound item is being a bit unrealistic.

October 2009

Weā€™re just back from a week in Suffolk. We stayed in a really nice B&B, with a good pub a hundred yards away, just south of Leiston.

September 2009

27th, A long walk around Hampstead Heath and Parliament Hill, NW London

.

20th, Open House Day in London.

August, 2009

Well, we are just back from San Francisco, where we had 12 days' holiday, before moving on to this year's International Puzzle Party, also in the city.

In the first 12 days, we walked many miles along many streets, and up and down many very steep hills, across the length and breadth of the city.

If you're not familiar with the geography of the Bay Area, it's shaped very roughly like a back-to-front letter C, with the Golden Gate Bridge spanning the the narrow gap between the two prongs of the letter C. The city of San Francisco is positioned at the top end of the lower prong of the capital C.

Greater San Francisco is about six miles wide and six miles north-south, with its west side bordering the Pacific Ocean, its east side bordering the bay, and its north side looking out to Alcatraz Island and the Golden Gate Bridge.

For the first 12 nights we stayed in bed and breakfast accommodation, three or four blocks south of the middle of Golden Gate Park. This area is predominantly south-east Asian, consequently having many Chinese, Japanese, Vietnamese and Cambodian shops and restaurants, making it quite different from anywhere else we have ever visited.

While this city and its surrounding area were quite sensational, I think Alice and I both agreed on the fact that our hosts in the bed and breakfast were the most memorable part of this holiday. Preferring bed-and-breakfast accommodation to a standard hotel, we booked this via the internet, and when we asked to be put in contact with our prospective us homes, we were given a phone number, as they do not have internet access!. They were described as being an elderly European couple.

As we were going to be staying with them for a relatively long time, we wrote to them, via snail mail, to introduce ourselves. After an uneventful flight to San Francisco, we travelled in a shared mini brass to our home for the next 12 days. We were made very welcome by Michael and Yolana who told us they were Hungarian, and had lived in San Francisco since 1974.

They only had a single room, so we had their full attention for our entire stay. Each morning we had breakfast with them in their kitchen, always starting with an enormous bowl of freshly prepared fruit. This was accompanied by whatever Yolana decided to cook for us, including omelettes, pancakes, quiche, a variety of breads and a constant supply of tea and coffee. At company in breakfast we also daily heard different chapters from a life story, stretching from Yolana's time at Auschwitz during the Second World War, meeting her future husband of in the late 1940s, raising their children, before emigrating to America in 1974, and how they lead a life which typified the so-called American dream in the last 30 years or more.
Our chats over breakfast would make a very entertaining radio documentary. Most surprisingly of all, Yolana was 80 this year, and Michael will soon be 86. We affectionately call them our Shuffling Hungarians, after the band which accompanied New Orleans piano player Professor Longhair. Alice still says she felt very guilty being looked after by an 80 year-old lady.
Using Google Street View I had extensively explored the area where we would be staying, with its many restaurants, as well those our home from home, an American-style pub called the Chug Bar. I had read various comments on its in advance of our visits, and this seemed to be one of those places that you either love or war hey.
We still haven't made our mind up, but the service from Terry and his staff was so friendly and efficient, that we will long remember it. The music was too loud, the TV screens were too brash, but we were made very welcome, and there was an excellent choice of real-ale. My own favourite was Union Jack, from the Firestone Brewery. Another highlight of our evenings were our visits to a Thai restaurant which we found particularly pleasing.
June 29th, 2009
I join the British Transport Police on Monday, as part of the National CCTV Strategy Alignment Team. It's a new role in a new high-profile project, so I don't really fully know what I'll be doing. It's all about standardising the supply and quality of CCTV across the train network. Iā€™ll be managing a database.
June 18th, 2009
May 2009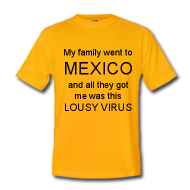 Iā€™ve designed a range of t-shirts in a load of vibrant colours with the slogan ā€œMy family went to MEXICO and all they got me was THIS LOUSY VIRUSā€
Order online here from Spreadshirt.net
May 16th
We did two more sections of the Capital ring, the round London long-distance path. We walked from Highgate to Hackney, about ten miles.
May 8th
Earlier this year I was told that my department at South West Trains was to be cut from 3 to 2 as a cost-cutting measure. I decided to volunteer for the redundancy and I have now finished at South West Trains.
April
We had a wonderful week in Wareham, Dorset.
March 2009
Alice's mother has recently exhibited some new-found intrepidity, if that's a word. She's just come back from an adventure, (which I christened ā€œThe Bungle In The Jungleā€), in Central America, Belize to be specific. The following is a compilation of her Letters From Central America.
I got to Cancun safely but late and arrived at the hotel at 1a.m. We were up next day at 6a.m.and got the tour for Chichen Itza. It was a long way but it was a good day and very interesting.

At midnight we took the bus to Chetumal and then to Belize and got to San Ignacio about 1p.m. The Parrot Nest was a bit like camping because we were in cabins with a central wash house etc. It was quite pleasant and friendly.

We have been canoeing on the Belize river, saw a butterfly sanctuary, iguana farm, two more Mayan sites, and had a day exploring the ATM cave. That was very adventurous. We had to cross rivers without bridges, AND THEN SWIM INTO THE CAVE. it is a massive cave with lots of stalagtites etc. There were Mayan relics and bones. It was a physical challenge because f all the climbing and swimming. A real experience to remember.

Now it is Tuesday and we have changed hotels. There is a computer for guest use.Mary-Alice has gone horse riding and I chose not to go. We had a very busy day yesterday. We started with a 7 am pickup and went to Guatemala to a mammoth city of the Mayans. It had 100,000 people at one time, but until the 1980s I think was covered by jungle. We walked for hours looking and climbing and listening to the guide. We had lunch at the end of the tour 3.00 pm. Next we went zip lining at the edge of the national park. We returned to town at about 8p.m.

Today we have decided to have a more quiet day and explore around town. This computer has the letters rubbed off some of the keys so it is like a typing class. The people of Belize are very friendly and helpful and we feel comfortable.

We are about to leave for Caye Caulker. Things are going fine. It is our last few days. We are going through a cave today using innertubes.
The following is from Katherineā€™s niece Mary Alice who travelled with her.
We have been having a great time and have managed to keep Aunt Katherine from drowning or being sunburned, quite a good accomplishment. Yesterday we went snorkeling and it was windy so, it was pretty challenging, but your wife has met every challenge we have thrown at her thus far!

Today is a lazy day as she prepares to leave tomorrow. After a boat,taxi, two planes and a train I believe she arrives back to you on Wed. We leave Wed and get back Thurs morning. Our last day will be spent at the Belize Zoo.

As we pay by the minute for internet connection, I'll sign off now.
March 14
Over the last year or so with gradually been walking the London Loop, a long-distance path around London, roughly eight to 10 miles out from the centre. This weekend we did this section from Greenford station in west London over Horsenden Hill, onto Harrow Hill, and ending at South Kenton station. it was quite a nostalgia trip for me as we walked past my old school playing fields, and over the top of Harrow Hill. Altogether we've done about two-thirds of the walk, from Woolwich in the east right round through south London and west London.
March 12
It is with greatly mixed feelings that I volunteered for and was accepted for voluntary redundancy from my position as a CCTV evidence gatherer with South West Trains. I still have nearly two months to work, and the last four years, working for a train operating company, have been very interesting. I have made many friends, both with staff and members of the British Transport Police.
March 7
It was a special Members' Day guided walk at Barnes wetlands, and we had an incredible day. In the space of an hour we saw a woodcock, a sparrow hawk, and, incredibly a bittern. the latter is a bird which previously we had only heard. Alice took her 2009 bird list to 46 different sightings.
March 1 Home Park
February 21 Kempton
February 14 Continuing our walk around the London Loop, we went as far east as the walk gets, visiting Woolwich in East London.
February 11 We both had the day off work to date, being Alice's birthday. She decided that she wanted to go to Bletchley Park, the estate where, during the second world war, code experts worked to break the German Enigma code. We had a terrific day, a place I would recommend to anybody, not even spoilt by the fact that a lot was closed due to the remnants of last week's heavy snow.
February 02
Well, a day that people in the South of England will remember for a long time! Overnight we had six or seven inches of snow, and despite gallant efforts to get to work, we failed. We went for quite a long walk in Bushy Park, seeing it under snow for the first time in many years.
January 31
I've just bought a new camera as my last one has just about worn out because I do take many many pictures. My new one is a Canon PowerShot A590.
January 17
Today we got the train up to Waterloo, from where we walked westwards along the River Thames as far as Putney, seven or eight miles in all. It was a wonderful day.
January 3
A visit on my own to my friend Peterā€™s Puzzle Party.
January 1
Happy New Year to everybody here! Last night we went to our local pub, followed by a real slap-up meal at a local up-market Chinese restaurant, truly wonderful. Today we shook off the effects of last night by having a bracing walk in Bushy Park. This year Alice has decided to keeper of a written record of her bird sightings. She set herself the target of 50 different species for 2009.