2006
30th December
Iā€™ve added all the back issues of our Christmas newsletter, the Watson-Laird Gazette, to the menu on the left.
7th December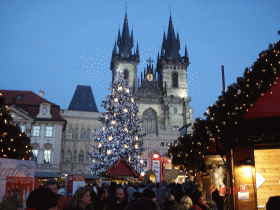 At the beginning of December we had five nights in the Czech Republic capital, Prague, with my puzzle-collecting friend Frank and his wife Lesley. Although we expect to have our summer holiday, in 2008, in Prague, we thought we'd have a short preview, and Frank had heard that the Christmas market in Prague was quite exceptional. Alice and I stayed overnight with Frank and Lesley, in Chelmsford, which was very convenient for our morning departure from Stansted airport, an airport which Alice and I had not previously used.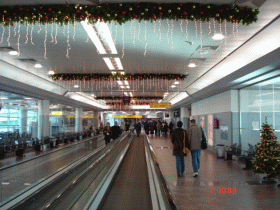 Arriving on schedule at Prague airport, we all bought seven-day passes for the Prague transport system, for just £7 for a week, including bus, tram, Metro and even a funicular railway up the hill overlooking the city. We also paid just over a pound for the express bus which took us to 600 yards from our hotel.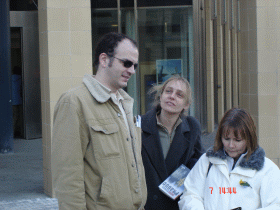 After checking into a four-star hotel, we took our first tram into the city, and walked around the labyrinthine cobbled streets of this beautiful city, also visiting our first Christmas market. The weather in December should be just above freezing point, but it was several degrees warmer. We had read in guide books that restaurant service was surly, and that food was stodgy, however both of these facts were quite wrong. Service was friendly everywhere, and the food was varied, well-seasoned, and always interesting. A pint of good Czech beer was about a pound, and a main course was about £2.50, and £3 would get you a feast!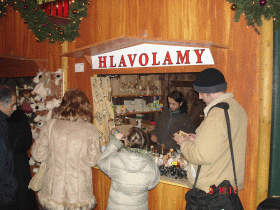 At least for Frank and I, one of the attractions of Prague was its reputation for having many puzzle shops, and we were certainly not disappointed. Quality and quantity were both excellent. Woodcrafts are a speciality in the Czech Republic, sowooden puzzles are a natural feature. Puzzles (ā€œhlavolamyā€) could be found both in traditional toy shops, and also in many gift shops and market stalls around the city.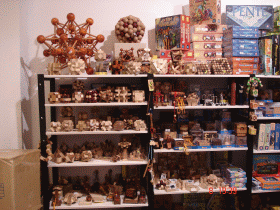 I was truly impressed by the skill and dexterity of the staff, mostly young girls, who were always ready to show off their ability at reassembling puzzles that had been dismantled by potential shoppers. To watch non-puzzlers putting together a 6- or even 18-piece burr, or re-entangling a disentanglement puzzle, while serving another customer was a truly impressive sight. I must admit to having taken a couple of puzzles apart, just to watch the staff put them back together again!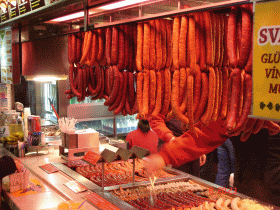 Although my health was temporarily badly affected by a disagreement with some pickled cheese, it didn't lay me low for too long, and I was soon back on my feet, even if my appetite struggled to cope with Czech menus. We walked many, many winding streets of this beautiful city, and also took the funicular railway up to the top of the hill overlooking the city, to explore the cathedral and the castle.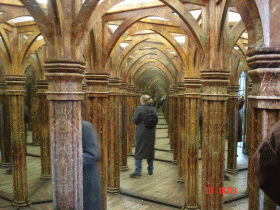 We even found a mirror maze at the top of the hill, which I enjoyed immensely, but Frank pointed out that it was more of a winding corridor than a maze, and he was somewhat disappointed, although I think my photographs speak for themselves. Hereā€™s Alice, through the looking-glass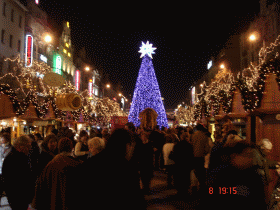 My lasting memory will be walking through the Christmas market in Wenceslas Square, which even a multi-million pound Hollywood budget could not have made look more impressive. I'm sure I speak for us all when I say we look forward to returning next year. The smell of mulled wine wafting across the city, will stay in my nostrils or perhaps just my memory, for a long time to come.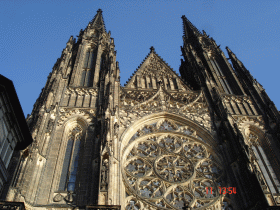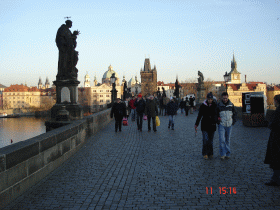 24th November
I just heard that the Russian spy who died recently was poisoned with Polonium 210. 25 years ago I worked with Polonium 210 almost every day, testing it in a 3M laboratory before it was used in industry for the elimination of static electricity. I worked with it in the form of irradiated silicon microspheres! While it is no longer an important part of my career history, I remember very clearly all the safety warnings, about how dangerous it was if digested. I remember that it had a half-life of 138 days, and that it gave off alpha particles, which only have a range of a couple of inches in air. It is quite an obscure isotope, and I have not heard it mentioned in any way since. I also had to advise union reps, and factory managers about the health and safety situation.
Totally by coincidence, Danny Baker on BBC Radio London, was this afternoon asking for stories from people who have something unusual on their CV, totally unconnected with what they do now. I sent in the above article, and he read it out to a background of suitably spooky music. Listen to it here.
23rd November
This evening we went to see the musical ā€˜Stompā€™ at the New Vaudeville Theatre in Strand in London's West End. I'd wanted to see it for several years, especially after having seen the film while we were in Helsinki last year. I booked the tickets through last minute and we got £32.50 tickets for £15 each. And no booking fee!
Insomuch as none of the performers speak, it's a silent show. However the idea of it is that the presentation is purely the percussive effects created by the actors. It starts with a single man walking across the stage sweeping noisily and rhythmically, with a stiff-bristled broom. Occasionally he turns the broom over and bangs the stage with the head of the broom. Sometimes for a little variety he spins it round and bangs the handle on to the ground. Gradually he is accompanied by several more actors, all with brushes. They're all playing slightly different rhythms which combine to form a wonderful sound. From there they progress to hand brushes, and metal dust pans, similarly banging them on the stage.
The show steadily rises in an amazing crescendo for a hundred minutes of wonderfully orchestrated, or should that be choreographed cacophony. At one point the eight performers each has a basketball, and they all bounced them in different rhythms, creating a music-like mixture. There's lots of hand-clapping and foot-stomping, by actors and the audience. In the finale three of the performers walk on stage standing on 45-gallon oil drums, which are fixed to the soles of their shoes. They walk and strut round the stage on the oil drums, simultaneously thrashing them rhythmically with long metal rods. Oh and I forgot to mention that they are also crashing dustbin lids together at the same time. We saw and heard the performers playing on everything from tea kettles to kettle drums with lots of hilarious visual and auditory jokes thrown in. If everyone could go and see ā€˜Stompā€™ on the same evening, the world would be a happier place!
17th November
The computer industry is facing a skills crisis, the president of the British Computer Society has told BBC News. Perhaps companies should choose those of us over 45 with 20 yearsā€™ experience, rather than those with increasingly meaningless degrees. I heard today that my 20 years meant that I failed to get an interview for a job with a local adult college because I havenā€™t got a degree. I wonder how many people half my age could create a literate and entertaining web site like this.
13th November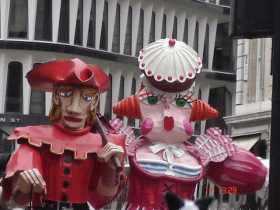 We had an excellent weekend! On Saturday we went up to London for the Lord Mayor's Parade. I'd never ever been before, partly because it's held so inconsiderately early in the day! I was therefore delighted to find out that after the new mayor has arrived at the Royal Courts of Justice, in the Strand, after a short break the parade returns to Mansion House in the afternoon.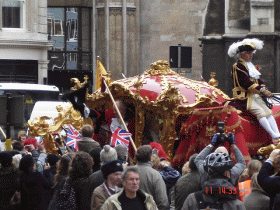 So at about 1.30 in the afternoon Alice and I were at the junction of Queen Victoria Street, and Queen Street, where we had an excellent view of the whole procession which lasted one hour and 10 minutes, ending with a wonderful view of the new Lord Mayor of the City of London, (not Ken Livingstone, heā€™s just the Mayor of London) in his carriage.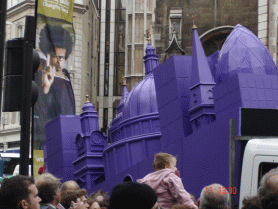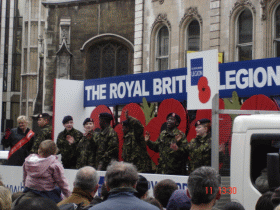 The standard of the marching bands, the military presentation, and the floats belonging to the various guilds of the City of London were really impressive. The entire route was lined on both sides by spectators, constantly applauding, cheering and whistling. I strongly recommend it for next year. I regret having missed it for the last three or four hundred years!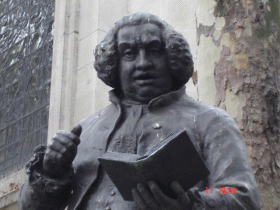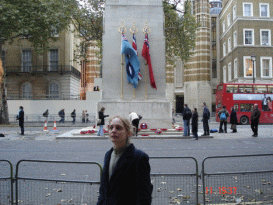 After the procession was over, Alice and I walked back through the City to St Paul's Cathedral, up Fleet Street, past the Royal Courts of Justice in this Strand, and stopped briefly at the statue of Dr Samuel Johnson at the rear of St Clement Danes Church. We had a quick look at the Christmas tree in the courtyard of Somerset House, before walking on to Trafalgar Square, down Whitehall, and past the Cenotaph, which would be the centre of the Remembrance Day parade in just over 12 hours' time.We also briefly visited St Martinā€™s in the Fields church, saturday being my Saintā€™s Day.
On Sunday we got the train to Shepperton and walked up to the Thames at the Lock, and walked along the river towards Chertsey and back. The highlight of the afternoon was seeing seven green parakeets on a bird feeder in a garden on the riverside.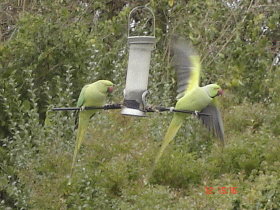 These birds are normally quite shy and are rarely seen other than high in the trees or flying quickly overhead. I was delighted with this picture, as they are very difficult birds to photograph. These birds with their very long tails, which are becoming a common sight in London and the south-east, supposedly escaped from a film studio thirty or forty years ago. They are a stirring sight in the sky, and are preceded by their distinctive high-pitched shriek.
I don't consider myself to be particularly political, although I do have a view on most things. I occasionally contribute to the Have Your Say pages on the BBC website. Apparently, like many people in this country, I am stunned at some of the decisions made by our leaders. More and more I am realising that the views of the people in the country at large are not shared by those in authority! Have a look at the Have Your Say pages, select the topic on which you have a strong view, and go down to the Comments section. Select the READERS RECOMMENDED tab. This shows comments left by readers, which have then been voted for as commended by other readers. They are sorted in order with the most popular comments at the top. I find that almost invariably I agree with the most voted for comments. Does this make me reliable a sounding board for the nation?
8th November
I contribute to radio phone-ins and chat shows quite a lot. Iā€™ve been mentioned by Terry Wogan and Jeremy Vine on BBC Radio 2, 88-91 FM. Sometimes it's just to try and air my views on a topical subject, and at other times it is to join in with whatever is being discussed. In recent months I've been listening toBBC Radio London 94.9 FM quite a lot, especially the breakfast show with Jono Coleman and JoAnne Goodwhich is a sort of sophisticated anarchy, and also Robert Elms and Danny Baker in the afternoon. I share Robert's great enthusiasm for London, and Danny's taste for the bizarre. On Monday afternoon, with Bob Mills sitting in for Danny, the subject was ā€œWords which you have heard being mispronouncedā€. I sent a short e-mail and you can hear it being read out by clicking here.
I finally had to become a mobile phone user yesterday. Long ago I recorded my views on them. Now read the sequel, my experience with a new phone.
I discovered a new 6-letter acronym. The following is from the BBC website. "Ever reported a PICNIC error to the IT helpdesk? No? Well they're logging them. It stands for ā€˜Problem In Chair, Not In Computerā€™".
7th November
The website that aims to get Transport For London support for banning non-personal music on transport has received a lot of publicity on TV, radio, and in newspapers in recent weeks. While it is principally aimed at the problem of music on buses, the problem also exists on trains.
The website now has a questionnaire asking the public if they think that something should be done about non-personal music on trains and trams. I think it would do us all a lot of good if this campaign was made known.
6th November
Alice and I are just back from a wonderful week in Dorset.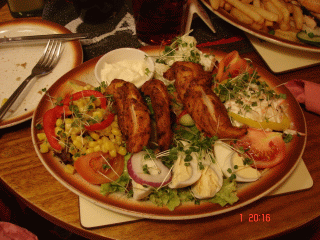 We stayed in a bed and breakfast in Crossways, which is part of Moreton, a tiny village just to the east of Dorchester. Even many of my colleagues at South West Trains were bemused when I mentioned Moreton. It has a single pub, the Frampton Arms, where we had dinner on several occasions. The food was excellent every evening, the staff were friendly, but the selection of beer was a bit limited.
We spent an excellent day in Dorchester walking along just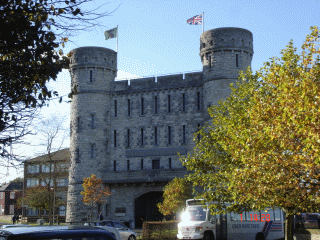 about every street as Alice guided us on various historic town trails. We did likewise in the small village of Wareham, surrounded by ancient mud banks, forming the town walls.
We also visited Poole, initially to catch a ferry across to Brownsea Island. At the beginning of 2006 Alice announced that it was The Year Of Brownsea Island, as she has long wished to visit this small island in Poole Harbour, the second largest natural harbour in the world after Sydney.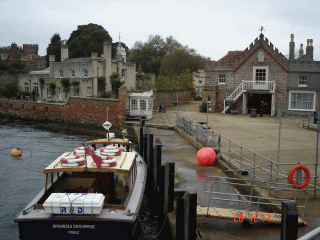 Brownsea Island is famous for its red squirrels, and also its many peahens and peacocks roaming loose across the island. I wonder, is there a sexless term for peahens and peacocks?
One can hardly say "I saw peas roaming loose across the island." Ironically, on our return, Alice discovered that she had previously visited the island as a child.
We also did some good bird-watching at Upton Park (below) near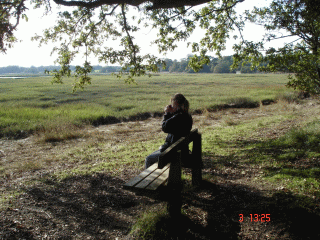 Hamworthy, and at Arne Peninsular about four miles walk from Wareham. We also had several geocaching expeditions, including one which saw us cover 18 miles on foot in six hours one afternoon. I was run ragged! Apart from a 20 mile self-imposed marathon, walking from Guildford to Dorking, it was our longest walk in 16 years together. It included a visit to Hardy's Cottage, where the writer Thomas Hardy lived, and also the site of Lawrence of Arabiaā€™s fatal motorcycle accident. On other days we walked 10 miles on two occasions.
25th October
We get very few ā€˜coldā€™ telephone calls as we are registered with the Telephone Preference Society, but on the very odd occasion that we get a call, I say ā€œI'd just like to take you through our security procedures, could I have your mother's maiden name please?ā€
21st October
Alice and I visited Battersea Power Station today.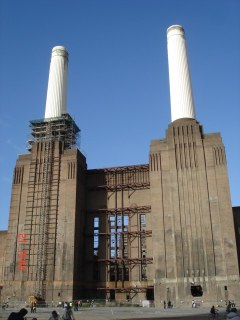 Combined with a rather pretentious exhibition of Chinese media art, the power station is open to visitors until 5th November, prior to the start of the renovation work which will take several years.
Admission was £5 and I was really impressed. It was quite moving to be able to go inside a building which has been on the London skyline all my life, but somehow out of reach. I took 1100 photographs today. I don't think I have ever seen so many people taking so many pictures of anything before.
I will be adding more pictures to the website in due course. This is the only chance that people will have to see inside the power station before its modernisation. It is a truly awesome sight.
24th September
This weekend we travelled to Hindhead to visit Alice's parents, as it had been her father, Michael's 69th birthday on Friday. We had an excellent barbecue on their newly-laid patio, with equally excellent weather. Photographs to follow...
Three weeks ago I took up a new position, still with South West Trains, but back at Richmond station. After three months of working in London, I have fully handed over my crime analysis duties, and I am currently familiarising myself with my new job as TravelSafe Administrator. TravelSafe Officers are the station and on-train security personnel, employed by South West Trains, but deployed by the British Transport Police. This new position came with a promotion.
One final piece of job-related news, on Friday we heard that South West Trains had been awarded the franchise to continue to provide a train service from London Waterloo to the south and south-west, for the next 10 years.
17th September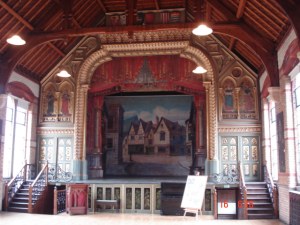 It was a particularly busy weekend for us, as it was the National Heritage Open Day in the London area. Each year at about this time many public and private buildings are open on just one weekend. On Saturday we had decided to visit Normansfield Hospital near by in Teddington, as we had heard that the theatre was particularly impressive. Normansfield Hospital was where Dr Langdon Down diagnosed the syndrome for which he became famous. We were, however still stunned to see the grandeur of this Victorian theatre, formerly known as the New Entertainment Hall. It is a large ballroom-style theatre with a very impressive stage at one end, and a balcony at the opposite end, the latter unfortunately not open to the public as it is still unsafe and awaiting renovation. The backdrops on the stage are listed items themselves due to their age and grandeur.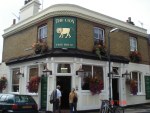 Following an excellent lunch at the Lion in Wick Road, accompanied by a couple of pints of Old Hookey, we moved on to the Kilmorey mausoleum in St Margarets, on the road to Isleworth. The entrance was via an innocuous door in a high wall. We knew of the existence of this mausoleum from previous Heritage Open Days, but did not know what to expect. It came as quite a surprise to see a 25-30 feet high Egyptian-style mausoleum about 10 ft square, in an overgrown garden in south-west London! Kilmorey Mausoleum is a Grade II listed building with exotic origins and a colourful history.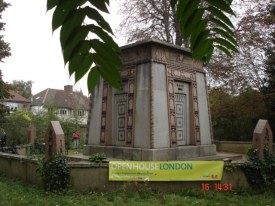 The mausoleum was built by the Earl of Kilmorey on the death of his mistress, who had formerly been his ward of court. When the Earl moved to Chertsey, he had the mausoleum of moved from its original home in Brompton Cemetery in West London, and when he subsequently moved to Isleworth, yes, you guessed it, he took it with him! Two coffins, elaborately decorated, remain inside the mausoleum which is open to the public on very few occasions.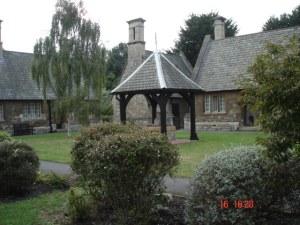 Our final event of the day was a two-hour guided walk around the old alms houses of Isleworth. Although we knew the Isleworth area quite well, local historian Andrea Cameron led us down many roads which we had not previously seen before. Naturally we visited many alms houses, although we weren't invited in for tea!. Of particular interest was the site of the former Isleworth Brewery, long since bought by Watney Combe Reid. Some of the local roads are still named after the former Shire horses from the brewery. The brewery was owned by the Farnell family, and, by coincidence, the Farnell Arms public house in Weybridge, was where Terry, the landlord of our local pub, the Roebuck, previously kept the beer. By a further and even more remarkable coincidence the cleaning lady at the Roebuck is called Mrs. Farnell.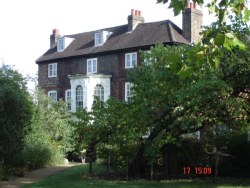 On the Sunday Alice and I visited the former home of artist William Hogarth, and also nearby Chiswick House and its extensive grounds. Hogarth's House is very close to what is now all well known throughout west London as the Hogarth roundabout, with its familiar flyover crossing the roundabout below, just a few yards from the fullers brewery. The house contains an exhibition of his work, as well as a highly polished branch from the mulberry tree in the garden. The branch was blown from the tree during a bombing raid in the Second World War. A particularly amusing exhibits is a drawing of the near by roundabout as it is now, but in the style of Hogarth!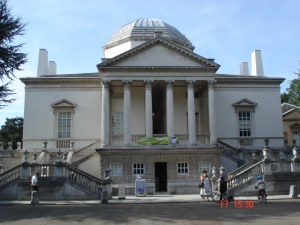 A few hundred yards away we found the entrance to Chiswick House, a former villa, now open to the public. While interesting in itself, in my opinion the gardens are more impressive than the house. I would imagine that the former owner, Lord Burlington, had travelled extensively throughout Europe, and on his return had the garden landscaped with many architectural features which he had seen on his travels. The gardens are always open to the public, at no charge and I would strongly recommend a visit.
10th September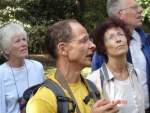 On Saturday morning we had a pleasant two-hour walk around the Woodland Gardens in nearby Bushy Park, with the Friends of Bushy and Home Parks, led by the head gardener. He told us that he is aiming to restore it, and maintain it without putting his own mark on it.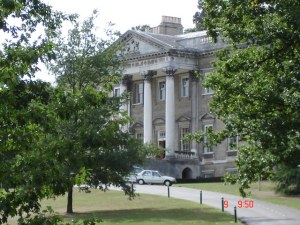 We then used a tortuous combination of public transport to get to Claremont House near Esher, which was open to the public as part of Surrey's Heritage Open Day. The house is now a private school, in its own extensive grounds, adjacent to Claremont Landscape Garden which was also open to the public. Alice's sister Becky used to be a teacher at the school in the mid-1990s.
We were able to walk freely around this fine school, then out into the grounds including a visit to the top of the Belvedere Tower, with extensive views as far as Richmond Hill. We then moved on the to the landscape garden, with its natural amphitheatre and a lake with a grotto.
2nd September
Alice just told me that the England football team won 5-0. I was in the bath at the time but I just leapt out so that I can add this update of my own: ā€œEngland must have opened up Andora's box...ā€ I do love a contrived pun.
7th August
We've just about recovered from our jet lag so we can now tell you about our summer holiday in Philadelphia and Boston. We spent 12 days in Philadelphia, supposedly the most historic city in the United States, and we were staying in the most historic square mile in that city. We stayed in one of only two rooms in a delightful bed-and-breakfast in the Society Hill part of Center City. We probably walked every street in the central part of the Philadelphia, as well as making several excursions to surrounding areas. We then spent a long weekend in Boston, attending the International Puzzle Party, so that I could add to my puzzle collection and we could renew friendships with other puzzle collectors from around the world. As well as the usual puzzle events there were excursions to surrounding places of interest some of which Alice visited on her own and others such as a day-trip to Salem, Massachusetts and the corn maize we visited together. I took nearly 3000 photographs so it might be some time before these are available on the website.