9th June
The last 10 days have not been happy ones for me.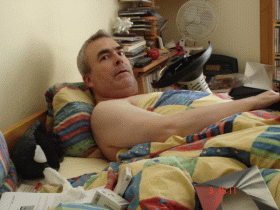 I have been flattened by viral gastro-enteritis, probably the worst and longest illness that I have ever had in my entire life. After aching bones, muscles and general lethargy, I developed alternating shivering fits and hot flushes as well as severe diarrhoea. Although I expect to be fit for England's opening game tomorrow there is still room for a lot of improvement. And all because somebody didn't wash their hands after the toilet. My illness didn't stop Alice asking me to help her assemble our new strimmer, as this bizarre picture shows. Isn't there a name for this sort of thing?

All I have done for 10 days is lie in bed listening to the radio. Much of it has been Radio London. I have particularly enjoyed Robert Elms in the afternoon, he has been scouring the city to find the venues where the 32 different nations will celebrate the 2006 World Cup. I have also enjoyed Danny Baker, especially the day that he pretended he was broadcasting at a live pop festival in Brockwell Park in south London. To a backdrop of chanting crowds he played classic live recordings from the last 30 years.

Yesterday Danny Baker was hosting a phone-in asking listeners to recount their humiliating childhood stories. I have one which is a particular favourite of Alice's. Just before the programme ended I phoned in and told my story to a production assistant who called me back a few minutes later before putting me on the air to speak to Danny. You can listen to the interview here.

27th May

It was a busy week for me, my first full week at Blackfriars where I am now based for at least three months. I spent the lunchtimes exploring SE1, an area of London with which I am not familiar. Amidst the hustle and bustle of daily commerce, there is a delightful mixture of local shops, converted warehouses, fascinating old buildings, and quaint lanes and alley ways. Possibly the most interesting feature I found was in the yard of Christchurch Church in the shadow of my office block. There is a set of flagstones in the form of a cross marking the place where the cross from the Church fell in flames and scorched the grass during the war.

On Saturday evening we met Lucy and Catherine, two of Alice's former colleagues from Lambeth Palace Library, and their husbands, Simon Williams and Jonathan Williams, no relation to each other, for dinner.

On Sunday afternoon we travelled to North London to meet another of Alice's former colleagues Anoja, and her husband Winston, and we had an excellent barbecue in their garden with their neighbours. Monday being Bank Holiday we had the day off and got the train to Sunningdale and walked through Windsor Great Park.

25th May

Fred Armitage and I had dinner with our old friend Robert 'Weird Beard' Reid, who was celebrating his 80th birthday

21st May

Possibly the highlight of the weekend, again organised by Alice, was the visit to Barnes Wetlands Centre, for a tutored walk around the centre, followed by breakfast. Our host for the morning was Dan, who Alice thinks should have been a male model rather than a nature warden! He led the group of six or eight would-be bird watchers around the Wetlands pointing out different birds and alerting us to their song.

After two hours I was getting decidedly hungry, I informed Alice that for breakfast I would like two sausages, two rashers of bacon, two hash browns and an egg. Her expression suggested that I was being overly optimistic. To my delight on visiting the cafeteria I was served with all of the above, plus fried bread and mushrooms fried with rosemary. Truly excellent!

20th May

Alice and I are Friends of Bushy Park. We have started attending the regular events organised by the other friends. Today's walk around Home Park and along the towpath near Hampton Court was centred on the Wild Flowers of the area. Despite occasionally atrocious weather I hardy group of 15 to 20 of those brave the elements and enjoyed an informative talk from Pippa. So many photographs of flowers, I just hope I can remember some of the names...

19th May

Quite unintentionally this weekend became a memorable nature event for us. Ever since Easter 2005 Alice has been a enamoured of the booming bittern, a very rare bird which likes the habitat of reed beds. Several weeks ago I read on the BBC website that these birds had been sighted at Kempton Park nature reserve. Having never heard of this place we decided to investigate. Alice contacted the warden who invited us to visit. On arriving at the reserve we found that there was no way to contact Kristine our charming and well-informed host for the afternoon. Fortunately the man living next door to the reserve had her phone number.

Kristine then spent the next two hours showing us around the reserve, created on two decommissioned reservoirs. She told us about the history of the reserve told us tales of her work there and sat with us in three of the hides. She informed us that for one of her exams she had had to identify 160 birds from their songs. Alice and are I struggle with about 10! The reserve has a problem with the local hooligans breaking in and causing havoc. Two of the highlights of the afternoon were seeing two flocks of Canada geese chicks, and seeing that about a dozen Heron idly standing around.

May 16

On Saturday we attended, as ever, Richmond May Fair on the Green in Richmond. After visiting many of the charity stalls in the morning Alice, Chris and I then went up the tower of St Mary's Church in Richmond. I treated Alice and Chris to a tour of Richmond town centre on the Young's brewery dray, a wonderful way to see the town. After lunch at the Waterman's pub in Water Lane we had another walk around the Fair and were surprised by the size of the crowd. Fortunately the rain stayed away.

On Sunday Alice and I went into Bushy Park to celebrate Chestnut Sunday. See the separate page for pictures of this year's event.

I visited my optician recently. He has this bit of kit that you rest your chin on and he looks into your eyes. He told me that the hydraulics in it failed on Saturday. I asked him if he was left with a client with a long face, or did he just say "Ah well, keep your chin up."

Recently Alice and I have been very impressed with the lilac flowers on plants growing up many local houses. I suppose you'd call it mass wisteria. Also recently I read with interest of the football team going down with food poisoning I suppose you'd call it mass listeria...

May 2

The May Day bank holiday is over, and the weather was a lot better than the forecasters said. On the strength of their bad advice, it must have cost a lot of people a lot of money in lost revenue.

On Saturday Alice went to the theatre in Woking with her parents, to see Agatha Christie's 'The Hollow'. I stayed at home and did some plumbing, my first ever attempt at push-fit pipe work. If I'd known how easy it would be, I wouldn't have worried so much!

On Sunday we went bird-watching in nearby Home Park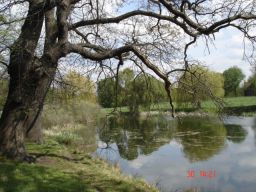 (left) where Alice says we saw a martin, I just saw lots of flighty summer birds, followed by a party with our friend Hilary.
On the bank holiday we went with our friend Chris for a walk along the Grand Union Canal, from Brentford to the Fox at Hanwell for lunch and Timothy Taylor's Landlord bitter. Local Hanwell residents were 'Beating the Bounds', a traditional May Day pursuit, which apparently involves an eight-mile walk carrying a tree branch.
April 27
We have just returned from a week's Easter holiday in Salisbury, staying with a lovely lady called Mary Webb. I promised to mention the excellent pub we visited 4 times, the Rai d'Or.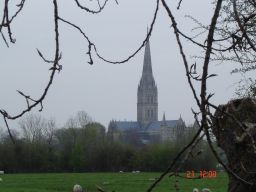 We strongly recommend it for a wonderful atmosphere, mostly non-smoking, friendly staff, real Thai food and of course fine real ale.
In the course of the week we also ate Mexican and Italian food, but our lingering memory is our Moroccan dinner on our last night, mine was lamb cooked for hours in a tajine, served with couscous, sultanas and sweet onions.
April 8
Alice caught me wandering all round the house with a sharp knife and a curry ready meal. She asked me what I was up to, so I explained that the instructions said 'Pierce film in several places.'