The Watson-Laird Gazette 2010
It's Our 20th Anniversary Special – Keep Your Copy In The Bathroom!
"Phew! What a year it's been, Alice!" "Don't we always start off like that Martin?" "Yes, Alice, I think we do! How about this then? What a 20 years it's been, Alice!" "Oh, we've never started off like that before, do you mean that...?" "Yes Alice, we've been together 20 years!" "Wow Martin, we'd better say more about that later on!"
"Yes, I think you're right, Alice, leave that for later on. First of all we'd better get on to the big news!" "What's that, Martin? What can be bigger than us being together for 20 years? "
"We've got the Wintri-Leaks revelations to announce. Surely you've heard about those, Alice? The papers have been full of it recently! Somebody high up in Santa's grotto has been spilling the seasonal beans on what the old duffer's been up to. It was either one of those pesky reindeer, or one of the grotto administrators, who has been revealing some of the confidential comments that Santa has been making about some of our best-loved pantomime characters. There's a full investigation under way, and thousands of people have been trying to disrupt access to Santa's website.
He supposedly said, "Cinderella is lucky to have two ugly sisters, especially as she's one of identical triplets. "
It's also been alleged that one of the Hot Babes In the Wood, now in her late teens or early twenties gave Santa a bit of a shock when she said she'd had a scan and found an unexpected item in the bagging area, until she explained that she'd used the self-service queue in Tesco's.
He apparently said he'd rather hear Enrico Caruso then Robinson Crusoe, any day of the week including Friday.
The problems with Hansel and Gretel have been Gretelly exaggerated, although Sleeping Beauty does spend far too much time on her back, if the rumours are to be believed.
The word is that he said that Peter Pan is "an effeminate has-been, who spends too much time trying to borrow Snow White's mirror", and that "Snow White should change her name to Slush White, if the string of gentlemen callers to her dressing room is anything to go by. "
Dick Whittington, always turning, is far too indecisive, and is a mayoral also-ran to Ken and Boris.
Also, supposedly, Santa has said that a certain popular pantomime cat is a foot fetishist and hypochondriac, and would be better named Puss in Boots the Chemist, judging by the big number of prescriptions he's been taking in recently.
It's also been alleged that Santa said that one school nativity play was "more mange than manger", due to the state of some of the animals, and that some of the wise men were clearly soap-dodgers, who've probably spent too long in Parliament Square. Here is the old duffer…
Well, we'll just have to wait for the investigation to see how that goes, and just hope that Santa gets his e-mail server re-booted by Christmas Eve, or else it's going to be miserable for thousands of little ones on Christmas Day.
Well that's brought the good folks up to date with news from around the world so I suppose we'd better tell them about what we've been up to in 2010!
Probably the high point of 2010, both metaphorically and in reality, was our ascent of the 12,000 ft-high volcanic mountain in Japan, Mount Fuji. We'd been in Japan, for this year's International Puzzle Party, which was split between Osaka and Hakone. Initially we spent four days at Nara, a wonderful escape into hundreds of acres of wooded parkland, where deer roam freely, always ready to terrorise tourists in their hunt for crackers. Nara is a city currently celebrating its 1300th anniversary. (Clearly Alice and Martin still have some way to go!) After lots of wonderful puzzling for Martin, and alternative sightseeing trips for Alice, we joined a hardy bunch of puzzlers for a two-day ascent of Japan's famous mountain.
At midday on a Thursday in early July, following a delightful drive high into the mountains, we spent a couple of hours acclimatising to the thinner atmosphere at 6000 feet, before climbing 3000 feet up a rugged, stony scenic path to a cabin where we spent the night, closely snuggled up to a load of puzzle friends. Our adventure was made even more arduous as we had to carry food and water for 24 hours. Very early on Friday morning, which to our surprise is when dawn occurs, we woke in time to see the sun rise over the clouds BELOW us. We then spent another three or four breathless hours climbing the final 3000 feet to the rim of the caldera (you can look that one up yourselves after Christmas) where the view down into the basin brought this reporter close to tears.
We then had another three or four hundred feet to climb up after walking halfway round the rim. The snow on our ascent had been five feet thick in places. On reaching the true top of Mount Fuji, we really felt as if we were on top of the world. It was a supreme physical achievement, quite unlike anything either of us had ever attempted before, and it was wonderful to attain the beautiful summit after three hours of strenuous climbing since dawn. Then came a big surprise. Whereas we had climbed 6000 feet up the zig-zag path, the descent was in a straight line downwards, (no, the descent being downwards wasn't the big surprise, we haven't come to that bit yet) we found out that we were walking through six to eight inches of volcanic ash, which was equally as hard as the ascent. We then had to travel into, across, and out of Tokyo, on the Friday afternoon, sleep rough at the airport, and fly home the following morning.
A more leisurely activity which we have enjoyed this year has been as a result of Alice never wanting anything for her birthday. It was suggested that we go to our local theatre in Hampton Hill each month, to see what ever was on. Being much in need of culture, Alice jumped at this idea. Consequently we've seen A Doll's House by Chekhov (no, not the helmsmen in Star Trek); Richard the Third; Hancock! a attribute to comedian Tony Hancock, and many others, including what will be the first of three Christmas pantomimes this season. Apparently we'd have been even more entertained if we'd gone to the pantomime two nights earlier, as the villain accidentally fell off the stage into the orchestra pit. The audience thought it was all part of the show, and the poor actor is now recovering from a broken arm. We wish him well. Oh yes we do!
I've already mentioned our Japanese summer holiday, but it was sandwiched between two holidays in the UK. At Easter we stayed on a farm near Stratford upon Avon where we enjoyed lots of walking as well as the inevitable Shakespearean experiences. All the guests were waiting anxiously for the birth of a foal, which finally put in an appearance on our last day. In the autumn we traveled to one of the few parts of the UK which we had not yet visited, south-west Wales, staying in a converted Georgian farmhouse between Pembroke and Tenby. The weather was brilliant, not only for South Wales in autumn but for any time in the UK.
This year's Page Three Bird is an old favourite we enjoyed in 2003, it's the Christmas Turkey Alice's mother cooked.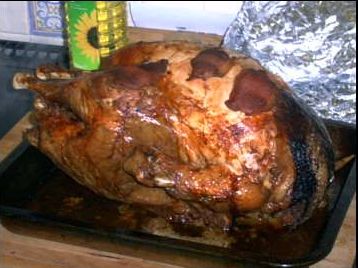 Following our completion last year of the round-London 75-mile Capital Ring the long-distance path, Alice slipped a copy of the guide book for the 150-mile London Outer Orbital Path walk, the London Loop, into Martin's Christmas stocking. We started the year on 1st January by doing the first leg from nearby Kingston across Bushy Park. We were aiming to complete it in 2010, however we have only done about a third of it, reaching North London. Book your copy of the 2012 Olympic edition of the Watson-Laird Gazette, by which time we should hopefully have completed the walk…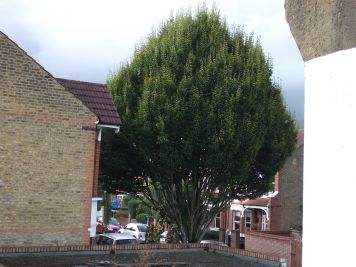 Another bizarre activity this year is nearing an end. Martin decided to take a photograph of the large tree which we can see from our bedroom window, at least once a week for the whole of 2010. With the assistance of a local friend who claims he knows about these things, we are going to compile the photographs into a short film showing the bare tree in January, slowly growing a summer coat of leaves, before going through a golden autumn, and ending up bare once again in a couple of weeks' time.
You can also see some of our friend Alan's other film work around Teddington during 2010 here. (no, if you're reading the paper version of the Watson-Laird Gazette you can't click it.)
We've also made several visits this year to the London Wetland Centre at Barnes, in south-west London. Our last visit of the year will be next Saturday, too late to make this Gazette, but it should be a memorable day as it will be to see The Voles In The Wood, a Christmas pantomime performed by the staff, some of whom have led us on highly intelligent walks around the site.
Other activities this year included a visit to the house of Thomas Carlyle, in Chelsea; walking from Windsor to Staines, along the River Thames, a walk we'd been meaning to do for several years, and a visit to the Royal Albert Hall last month, for a Classical Spectacular concert. Martin achieved a lifelong ambition, during the summer when he was able to go to the top of London's Post Office Tower, including a visit to the outdoor viewing gallery above the famous revolving restaurant. Alice continues to go to a monthly book group, and this year she managed to read 5000 books, although we all know that librarians only read the spine. Also, we continue to go to a local bird-watching club, as well as making several visits to our local nature reserve.
During 2010 a word that caught my attention is app, which app(!)arently and logically, is a small application. As the word 'application' is in danger of falling into disuse, I thought we should celebrate words that end 'lication'. For this year's Truly Difficult Quiz, here are 15 definitions of words that end 'lication'. All you have to do is come up with the words!
The act of making a copy that corresponds to an original exactly.

An explanation; interpretation.

Something suggested as naturally to be inferred or understood.

The act of bringing something before the public.

The process by which double-stranded DNA makes copies of itself.

The act of twitching, or of causing to twitch.

A concurrent disease that aggravates the original disease.

A method of occluding the end of a divided artery.

A light-hearted term for punishment (generally of a child).

A humble petition; an earnest request; an entreaty.

Having a central mark or depression resembling a navel.

Reduction of the lumen of a dilated colon by making folds.

Folded together lengthwise, as certain leaves or petals in a bud.

Treatment of gastric dilatation by stitching a fold in the stomach.

The act of producing offspring.
For those of you who are linguistically challenged, you can have the easier option of matching the definitions above, to the following list of what comes before 'lication' in each case. By the way, congratulations to Julie who successfully completed last year's Watson-Laird Gazette Christmas competition.
COLIP – COMP – CONDUP – DUP – EXP – GASTROP – IMP – MULTIP –PERP – PUB – REP – SPIF – SUPP – UMBI – VEL –
Well Alice that's another round-up of another great year, and as we said at the beginning, this month we are celebrating 20 wonderful years together. (It did look a bit doubtful last weekend when Alice was sent out for brandy butter, but came home with brandy cream…) We are both really sure that we're on our way to another 20. Finally we would like to wish all our friends and family a wonderful Christmas and a fantastic 2011.
Stop Press. We just got home and found all the doors and windows open and everything gone. What kind of sick so-and-so does that to someone else's Advent calendar?