My 2013 generic MS Word format CV.
I've spent some time, profitably, developing this web site, as it is undoubtedly a superb 'shop window' for JUST SOME of my IT skills. It, and its content, will give you a more accurate view of my technical and commercial ability and potential than a CV ever can. I expect to be particularly valuable to a small or medium organisation which requires an excellent all-rounder.
This site was the featured "Readers' Website" in Web User magazine in February 2007, they said,
"A well-thought-out layout and Flickr integration, coupled with unique and interesting content, make this a simply delightful website which we strongly recommend you take a look at."
Read the full article here.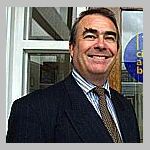 My 20-year IT career has been varied and challenging and I am well-positioned to bring this broad experience to my next employer, who will value my customer commitment, and logical problem-solving ability, based on a wide IT background. I enjoy being an expert in a niche-market product. I have the right balance of technical and client-facing skills. I am particularly keen to work for a local employer, in the Teddington - Richmond - Kingston area.
To create this site I have had to do all of the following and more:
* Research Domain Name registration.
* Learn HTML.
* Understand the concepts of FTP.
* Research and understand the requirements for a good web site.
* Assess the available HTML editors.
* Assess the available FTP products available.
* Create, maintain and update the content.
* Design a file structure.
* Develop a constant user interface.
* Fault detection and correction.
* Assess available link checkers.
* Generate traffic to the site.
* Get seen by search engines.
* Select, and learn the use of an image editing tool.
* Reply to the email compliments which I have received from all over the world!
If I come to work with your organisation, I will demonstrate and apply this ability to understand, break down, simplify and solve a series of problems; bring previous skills; quickly learn new skills; become an expert in the required area, share that knowledge, and make a major measurable impact on your team, your clients and your bottom line.
I've added this page to my web site to give some background to anyone who has received my CV during my job search. As one never to be beaten, I'm making sure that my skills are current and impressive. My IT career has essentially been in customer care and high-level technical support on an employer's own products. This has called for quick learning, and an ability to understand complex products and concepts in great detail, and then to be able to simplify those ideas to relate to clients at all levels. I always aim to manage a client's expectations and to talk to them at an appropriate level without resorting to technical detail.
My broad experience covers all the following, Data Analysis, Web Design, EDI, MS Word, MS Excel, MS Access, MS Project, Help Desk, Onsite Troubleshooting, One-to-one Training, Classroom Training, Documentation, Technical Authoring, Requirements Analysis, Software Testing and Scripting, Data Conversion, Research, Software Installation, Network Integration, Hardware Maintenance, Project Management, Change Control, SQL. GoldMine setup, configuration, support and training.
I don't claim to be an expert in all of the above, but if you are looking for a very experienced self-starter with an ability to succeed, and with great initiative, we should meet for a discussion.
You've probably received my CV either directly from me or via a recruitment agency. If not, contact me for my generic CV in MS Word format.
One unexpected aspect of this website work has been my realisation of just how bad many web sites are. The main problems I have encountered have been some or all of the following.
Failing to attract visitors.
Taking too long to load.
Being too flashy rather than informing.
Not addressing the requirements of the intended audience.

Being illogical in content.
Not being tested in enough different environments.
Not being tested at all!
Spelling mistakes.

Being out of date.
... and being just a few clicks away from a rival organisation!!
All of these are costly to commercial organisations.
Other parts of this site which especially demonstrate my all-round ability are
my imaginative Puzzle Designs and my Computer-Generated Images.
Finally, within six hours of adding this page, and mentioning it on a recruitment bulletin board, I got the following message added to the board. A big thank you to whoever you are!!
"This is excellent! I think this is a very imaginative way of showcasing your skills and experiences, and I wish you all the best."