I'm disappointed at having to write this page, as it is meant to be Alice's contribution, but she has been too busy lately. It's going to be very different from what she would have written herself, though…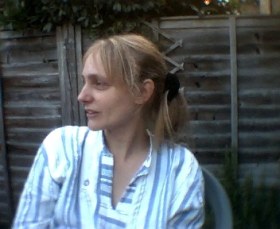 I first found Alice, my Final Girlfriend, in a dusty corporate library at a company where I was working in 1990. She was doing a year's work experience between having finished at Nottingham University and going to Library School. She had previously worked in Memphis, Tennessee as a nanny looking after three children. She didn't visit Graceland or Beale Street, for which I still berate her. With a classics degree she was a natural choice as a Library Assistant.
When she left after her year in commerce, she was studying in Liverpool for a PG Dip Lib & IT, otherwise known as a Post Graduate Diploma in Librarianship & Information Technology. She lived on the 16th floor of a tower block in the north of the city. During the second half of her year in Beatle Town I drove 224 miles there 10 times on Friday evenings, and back on Sunday evenings. We used to spend Saturdays in the city, and Sundays out in the surrounding countryside. We saw Liverpool play at home, and watched the Grand National. We went on a Beatle Tour. We used to go to The Grapes, in Matthew Street, near the site of the Cavern Club where the Beatles started their careers.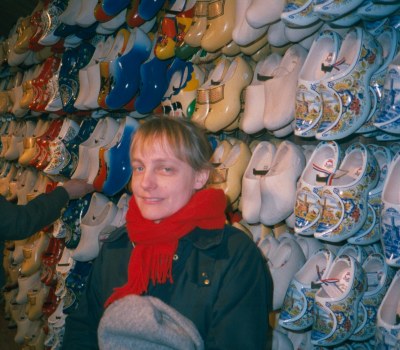 Above, Alice in 2002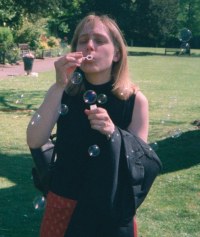 When she got her diploma, she followed it by securing a job as Assistant Librarian in the Library at Lambeth Palace, London home of the Archbishop of Canterbury. Simultaneously she moved to Teddington. One day I telephoned her at work, the day after HM The Queen had visited the Library, and I pretended to be a doddery old man, claiming to be the Queen's Equerry, enquiring after the Queen's mislaid handbag. She fell for it totally.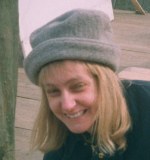 After eight years in the halls of one of London's finest buildings, Alice went to work for the Department for Education & Employment for a couple of years, then another two with a company providing corporate financial information. This latter job saw her criss-crossing the country training clients. She then worked for the Home Office, and has met David Blunkett's dog Sadie. She now works for a Chartered institue Library.
A.L.I.C.E. is an acronym for "A Large Ion Collider Experiment", "Artificial Linguistic Internet Computer Entity" (a natural language artificial intelligence chat robot!), and "All-purpose Lightweight Individual Carrying Equipment", which sounds like a bag, and finally "A Language for Intelligent Combinatorial Exploration" which sounds like a lot of fun.
Here's Alice dancing on a street xylophone in Berlin, August 2007.
Alice's American grandmother was born in Indian Territory, which later became Oklahoma. Alice's mother still speaks fluent Missoura.
This next picture shows Alice meeting one of her heroes, the 'Loose Canon', Reverend Roger Royle, after we saw him in panto.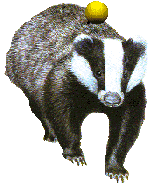 Alice likes cats, candy and countryside. She says her outlook on life is, "I don't trouble Trouble until Trouble troubles me!" She can't reverse park, but I wouldn't want to be without her. She has a younger brother and older sister. We have had many holidays together all over England, Scotland and Wales, as well as France, Cyprus, Crete, Madeira, Belgium United States, and Japan. She likes Bette Davis films, showbiz gossip, books, Tammy Wynette, Flanders & Swan, and dislikes Spike Jones, and The Clash. There is no truth in the rumour that she has a discrete tattoo reading "Quantum ille canis est in fenestra?", the alleged result of a wild night celebrating her degree. Finally, ask her about this picture.