Occasionally I come across unusual objects or wotsits. Sometimes I know what these objects are for, other times I have no idea and genuinely want to know.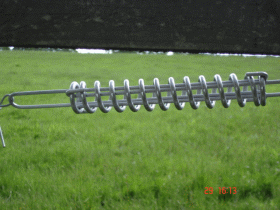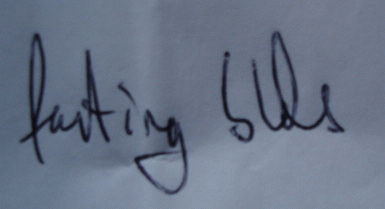 The picture above left looks like a prize addition to anyone's puzzle collection. The text extract above right was written by my GP on a request for the local hospital to give me a blood test after a severe bought of gastroenteritis. Nothing is quite as it seems and I saved my embarrassment by finally deciphering it correctly.
This is made in quarter-inch plywood, of three identical pieces hinged together with a nut and bolt, which isn't very tight.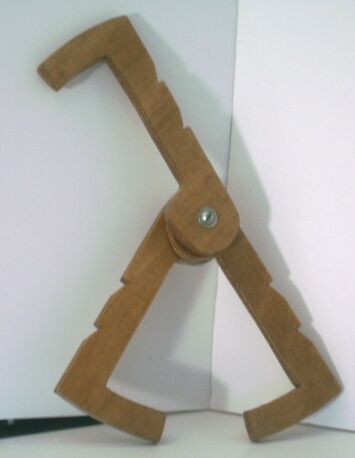 The item is as shown when I bought it for £1 from a junk stall from a local market trader who didn't know what it was either. I joked with her that she probably made them herself to sell to suckers. Whether the three pieces are meant to all point clockwise, or with one counter-clockwise as shown, I don't know. It has been made with great care, but is clearly home-made. It's about 4-5 inches long. All serious suggestions will be listed here. It has done the rounds of the office and my local pub, and has been examined by a variety of bar-room experts but I am yet to hear a likely suggestion for its use. Is it a clamp? Is it a guage? Is it a boomerang from the Isle of Man? I really don't know what this is.
The following remains unchanged from when I first saw this item, before I eventually found out what it is. My assessment of it was quite wrong!
"The next item is very different. It was described to me before I saw it and subsequently bought it, for 49p, and I identified it as a board for a derivative of the African game of Mancala, but having seen it, I am no longer sure it is even a game or puzzle. The nine depressions on side one and ten on the reverse are clearly too small for anything except individual pegs or balls, none of which are in my possession. The smaller depressions do not go right through the wood. Is side two a Halma derivative, where each player has to move perhaps 4 pegs to the opponent's end?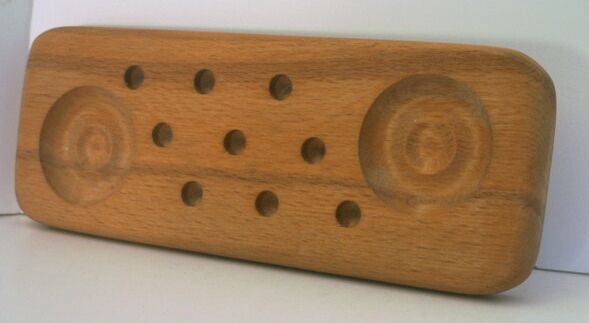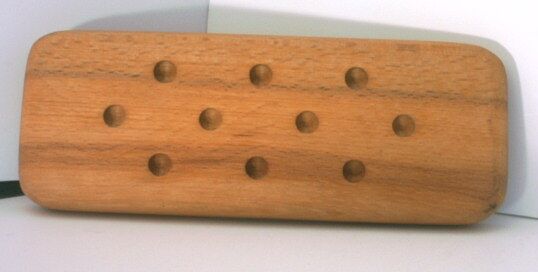 "It is three inches wide, just under an inch thick and eight inches long, with a different arrangement of depressions on each side. The wood is very hard and heavy, and shows no signs of wear. The large depressions are 1 3/4 inches across. I think it is probably a two-player game, but I have studied games around the world since childhood and I have never seen anything like it. What is it, and what are the rules if it is a game or puzzle? Is it a candle holder? Is it a religious artifact, the holes being for prayers? Is it a culinary device, the depressions being for herbs and/or spices? All serious suggestions will be listed here.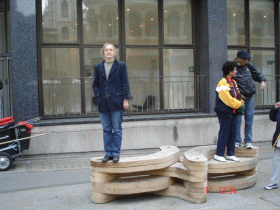 These objects are in the City of London for use as benches, or, as shown on the left, modelled by Alice, for standing on to view the 2006 Lord Mayor's Parade. But what are they? They look as if they were reclaimed from something, as they are clearly not really comfortable enough for sitting on. London being a port with a long history, are they part of a ship? Or dockyard?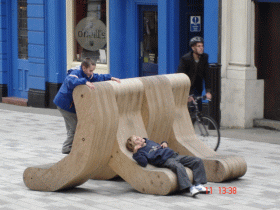 Are they some sort of pulley? Are they for buffering something? Are they some sort of hinge or pivot? With vandalism what it is these days, making benches out of wood doesn't seem a very good idea, so I do think that they have had some previous purpose. However they don't seem to be particularly worn. Are they perhaps new ones that were never used for their original function? I think somebody has been very imaginative at not only re-using these items, but managing to find two different ways of erecting them. Please let me know if you have any interesting or amusing ideas!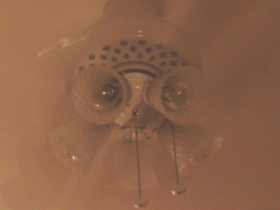 No, this isn't something from my nightmare last night, nor something from the depths of Stephen King's imagination. Not even really a mystery object, just something that normal people don't photograph, especially with this camera setting!
He wouldn't seem out of place in a Mad Max film perhaps.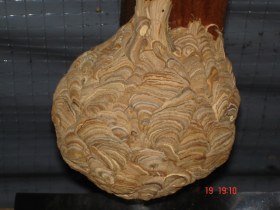 Another one now that most people don't photograph. We've had this in the loft for quite a while and finally got it out at the weekend, November 2006.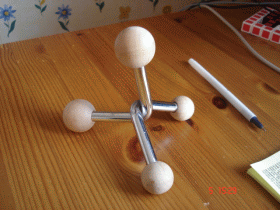 And if this is a puzzle, what do you have to do with it!?