We are Friends of Bushy & Home Parks.
Parks are for enjoying, rather than writing about. Go and visit them.
The following two films are ones I made in February 2009 after the Big Snow.
The maps on this page show, firstly the west side of Bushy Park, then the east side, and at the end of the page, the whole park.
This next film is just too adorable. It was made in bushy park, on Chestnut Sunday, and shows the sort of perseverance from which we could all learn from. I challenge you not to sigh with delight at the end of, along with the many people whio were captivated by the events at the time.
A baby swan family struggle to the top of a very slippery bank. One little fellow really has to struggle though. Dedicated to the clown on the mobile phone at the end who spoiled it for everyone.
30th April, 2007 - I see that an information plaque is to be erected in the park to provide the history of the giant gear wheel. See my entry for December 14th, 2006 on the Teddington Diary page for more details.
10th March, 2007 - We saw these little fellows today. On the left, in the western Woodland Garden, a grey wagtail, blurred but it was hand-held at 12 magnification(!), and a very blue magpie at the east end of Canal Plantation. There had also been a lot of work done in the eastern Woodland Garden, as seen below.
Green (or ring-necked) parakeets were in abundance, apparently at risk of being culled in SW London due to an adverse effect on other birds including woodpeckers, but we saw three green woodpeckers, SE of Bartonís Cottage (who was Barton?) on the way home, more than ever before.
---
My open letter to the new (March 2007) Police Safer Parks Team:

Hello, and welcome to Bushy Park. I'd just like to say how pleased we are to hear that we have got a dedicated police team for our wonderful park. I'm sure you've all got lots to do so I won't say much except to highlight some areas for which we have particular concern.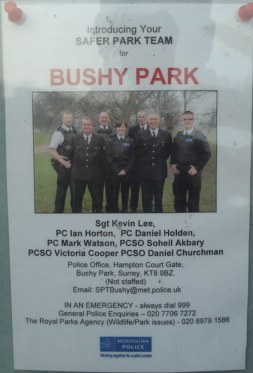 Number one has got to be dog mess and the irresponsibility with which some people, a small minority, handle their dogs. Last Saturday we walked extensively in the park, and the area south of the central car-park, (the one opposite Bushy Park House) was an absolute disgrace. We must have seen 15 bags of dog excrement, just discarded, just a few yards from where small children were playing. It's bad enough that dog owners don't clear up after their animals, but to pick it up and then leave it in bags on the ground, which eventually become shredded and blow about, creating an even worse hazard, is really unpleasant.
I don't remotely blame the dogs, the other end of the lead is where the problem usually lies, although too often dog-owners don't even have their animals on a lead close to children, the deer, and people who don't share their love for their dog.
The other two issues which concern me, are the speed of traffic, particularly along Chestnut Avenue, and the increasing problem of cyclists, usually on mountain bikes, destroying paths which are not meant for bikes.
I wish you all luck in your new venture, and look forward to seeing the results of your efforts in making the park even nicer.
---
I received the following nice reply:
Hello Martin and Alice,

Thank you for letting us know what concerns our Park users have, Please ask any of your friends that have issues and or information that will assist us in keeping the Royal Park of Bushy as a place of safety and enjoyment to let us know, E/Mail is the best conduit.

Your three main concerns are;

Dog Fouling, We regard this as a serious breach of the Park Regulations and anyone seen discarding such will be reported.

Speed. We recently did a Speed Operation on Chestnut Avenue and only eight cars out of two hundred monitored exceeded the speed limit. We will however be running a number of ANPR / Speed enforcement operations over April and May ( So let your friends know to keep to 30mph ! )

Mountain Bikes, Damage caused to Parkland. I will forward this E/Mail to the Park Manager to keep him informed and to identify the areas needing attention,

Once again thank you for your information and help,

Yours, PS Kevin Lee SPT.
---
Maps on this page courtesy of Ordnance Survey Get-a-Map